In this article, we will unveil the top 10 natural wonders of New York that will blow your mind. The Empire State, New York, is frequently thought of in terms of soaring skyscrapers and frantic city life. But there is a secret treasure trove of natural treasures just waiting to be discovered beyond the urban jungle. New York offers a wide variety of natural beauty, from imposing waterfalls to tranquil woodlands.
Now, let's start a journey through these remarkable natural wonders of New York.
Top 10 Natural Wonders of New York
1. Niagara Falls
One of the most watched waterfalls in the world, Niagara Falls, located between Canada and New York border. It's breathtaking to see the cascading waves in all their beauty and power. Via boat trips like the Maid of the Mist, which bring you down to the base of the falls and engulf you in a misty embrace, you may get a close-up view of the falls. Niagara Falls is one of the best Natural Wonders of New York.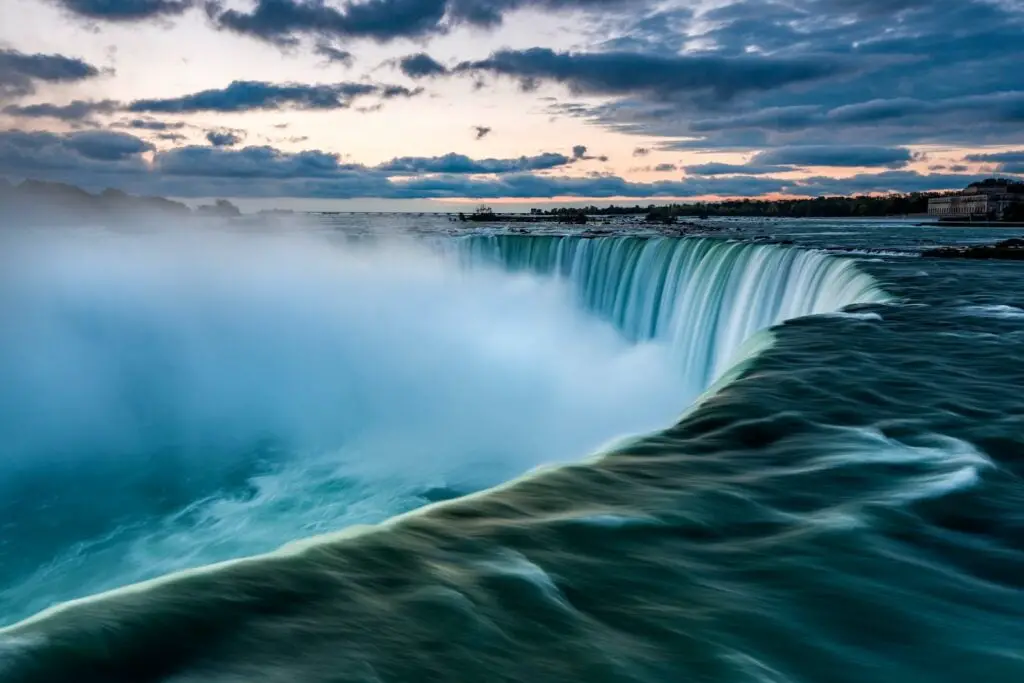 Three Waterfalls: It comprises three waterfalls, namely Horseshoe Falls (Canada), American Falls (USA) and Bridal Veil Falls (USA), which are three breathtaking waterfalls.
Geological Formation: The Great Lakes and glaciers carved the Niagara River during the last ice age, resulting in the formation of these falls.
Iconic Horseshoe: Horseshoe Falls, the largest waterfall, is 167 feet tall and horseshoe-shaped; for this reason, it is called Horseshoe.
Tourist Attraction: Millions of people visit each year to explore the Maid of the Mist boat excursions, Cave of the Winds, and scenic overlooks.
Spectacular Night View: The illumination of the falls at night creates a mesmerising visual spectacle that captivates visitors.
2. Adirondack Park
Adirondack Park is a vast wilderness area with six million acres that is home to pristine lakes, lush forests, and craggy mountains. It offers outdoor enthusiasts activities like hiking, camping, and kayaking, making it a refuge for them. The park is an epic Natural wonders of New York due to its richness and unaltered terrain.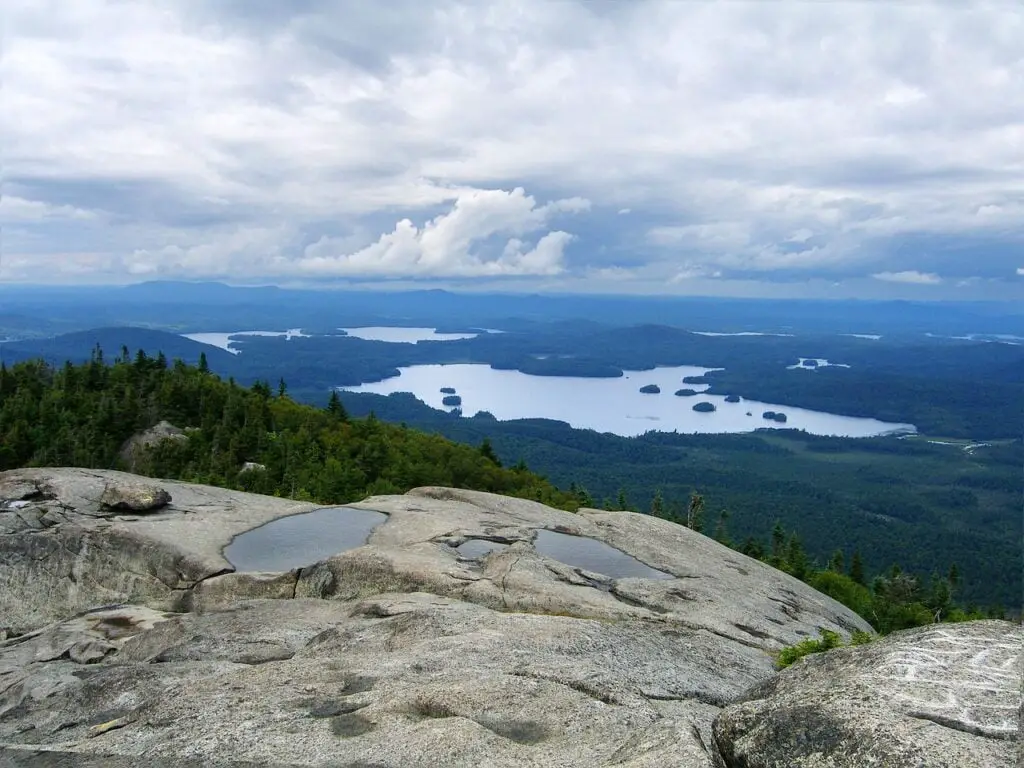 It's the largest publicly protected area in the contiguous United States, encompassing over six million acres. Here are five key points about Adirondack Park:
Breathtaking Scenery: Adirondack High Peaks, numerous lakes, and meandering rivers are just a few of the breathtaking sights in Adirondack Park. With chances for hiking, paddling, and wildlife viewing, it's a refuge for nature lovers.
Outdoor Recreation: Outdoor enthusiasts can engage in activities including hiking, camping, fishing, boating, and snow sports at the park. Adventurers are catered to year-round in the Adirondacks.
Rich Biodiversity: It is home to a wide variety of plants and animals, such as moose, black bears, and the recognizable Adirondack loon. There are conservation measures in progress to save its distinctive habitats.
Historical Sites: Look into historic locations like Great Camps, which the wealthy built in the late 19th century. The area's rich history is displayed through these rustic retreats.
Year-Round Destination: Visitors may enjoy the fall foliage, winter skiing, spring blooms and summer activities in the Adirondack Park all year long. It is a location with year-round outdoor adventure and stunning natural beauty.
3. Letchworth State Park
The Genesee River carved out a stunning canyon in Letchworth State Park, often referred to as the "Grand Canyon of the East." Three magnificent waterfalls, soaring cliffs, and lush forests may all be found in the park. Hiking along the gorge's rim allows visitors to take in the breathtaking scenery below.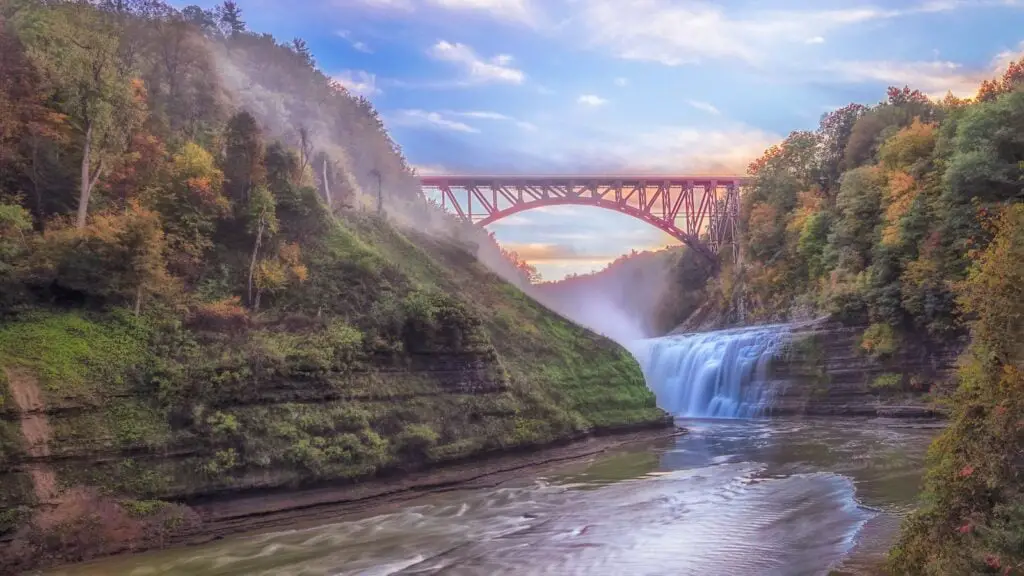 Letchworth State Park is a natural wonder in upstate New York. Here are five highlights:
Spectacular Canyons: Letchworth is home to vast valleys cut out by the Genesee River with waterfalls that reach heights of more than 600 feet. Beautiful views can be found throughout the park.
Waterfall: The park is home to High Falls, Middle Falls, and Lower Falls, three magnificent waterfalls. They're a photographer's dream.
Outdoor Adventures: Popular activities include whitewater rafting, biking, and hiking. The park's paths offer exploration opportunities for people of all skill levels.
Rich History: Visit the Letchworth Museum and the William Pryor Letchworth Museum to learn about the history of the park. William Letchworth, who gave the park its name, was instrumental in ensuring its survival.
Year-Round Beauty: Letchworth State Park changes with the seasons, from dazzling autumn colour to tranquillity covered in snow. For those who enjoy the outdoors and adventure, it is a year-round gem.
4. Catskill Mountains
For hikers and wildlife lovers, the Catskill Mountains in southeast New York are a wonderland. You can explore the area's lush forests, peaceful lakes, and flowing waterfalls on a number of paths of varied degrees of difficulty. The Catskills provide a getaway from the bustle of the metropolis. Catskill Mountains are one of the Natural Wonders of New York.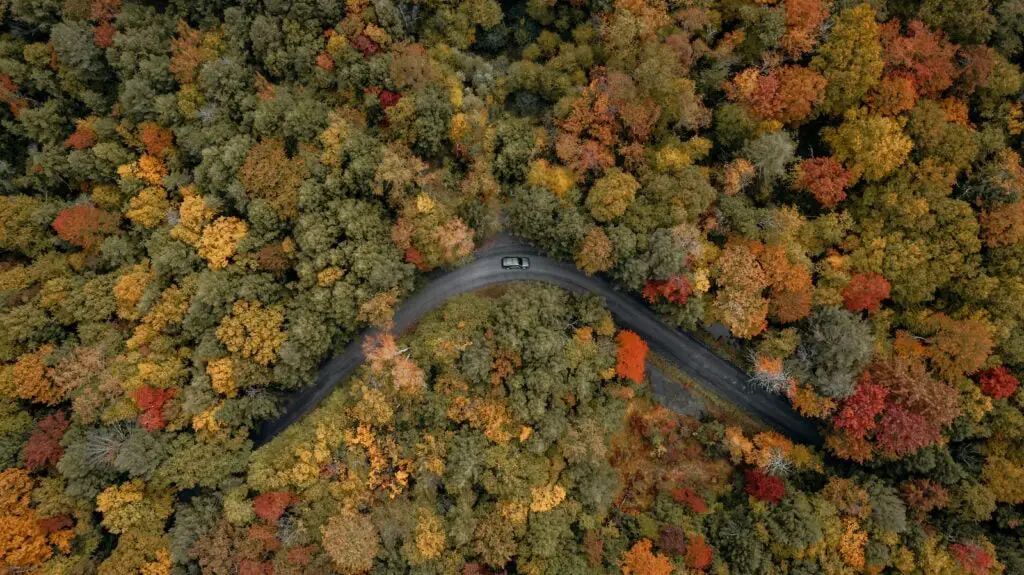 The Catskill Mountains, nestled in southeastern New York, offer a diverse range of experiences. Here are five key points:
Natural Beauty: The Catskills, known for their lush forests, undulating hills, and crystal-clear rivers, are a paradise for outdoor enthusiasts. Popular activities include hiking, camping, and fishing.
Artistic Heritage: Generations of artists, writers, and musicians have drawn inspiration from the region's rich cultural history, notably the Hudson River School painters and the renowned Woodstock Festival.
Delaware River: The Delaware River, a crucial source of water, originates in the Catskill Mountains. The river is a great place to go tubing, kayaking and enjoying the beautiful scenery.
Wildlife: Many species of wildlife can be seen in the area, including bobcats, bald eagles, and black bears. One of my favourite past times is bird watching.
Resorts and Retreats: A well-liked location for relaxation, the Catskills are filled with resorts and retreats. Cozy cabins and lovely bed-and-breakfasts are common in the neighbourhood.
5. Watkins Glen State Park
With a meandering valley and 19 waterfalls, Watkins Glen State Park is a genuine work of nature. A magnificent trek through lush vegetation, stone bridges, and refreshing, misty waterfalls awaits hikers on the gorge's winding hiking track.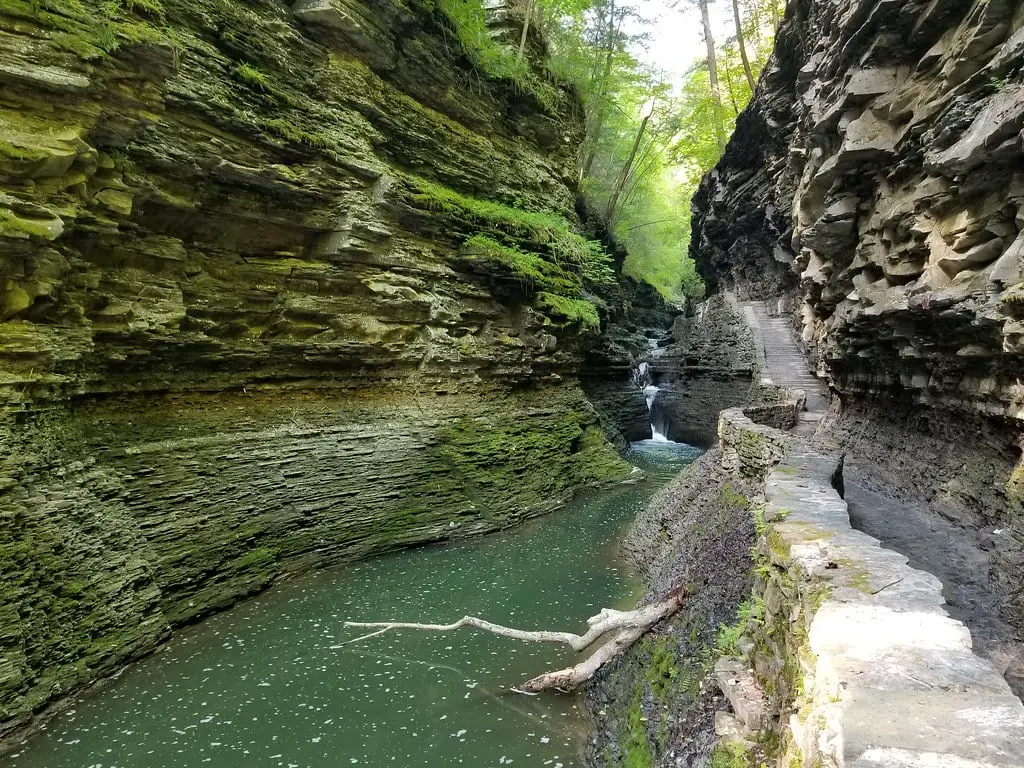 Watkins Glen State Park, situated in upstate New York, is a natural wonderland known for its captivating beauty and outdoor adventures. Here are five highlights:
Spectacular Gorge: In the park, Glen Creek created a breathtaking, 400-foot-deep valley. Along the Gorge Trail, visitors can discover a number of beautiful waterfalls, stone bridges, and tunnels.
Rainbow Bridge: The Rainbow Bridge, one of the park's famous stone bridges, is a popular location for photographs. It represents the park's distinctive charm.
The Gorge Trail: You can see 19 waterfalls, including the 60-foot-tall Central Cascade, while hiking the Gorge Trail. You can also see fascinating rock formations like the Spiral Tunnel.
Outdoor Activities: The park offers activities outside hiking, including camping, fishing, picnics, and swimming in the Olympic-sized pool.
Camping by the Creek: Watkins Glen State Park offers tent and RV camping options so that guests can fully appreciate the park's stunning natural surroundings.
6. Lake Placid
Located in the Adirondack Mountains, Lake Placid is a tranquil and lovely vacation spot. The lake's crystal blue waters are ideal for kayaking and fishing, while the mountains in the area are great for climbing and skiing. It is a marvel of nature all year.
Lake Placid, located in the heart of the Adirondack Mountains in New York, is a charming village with a rich history and stunning natural surroundings. Here are five highlights:
Scenic Beauty: The famous lake at Lake Placid, which is surrounded by beautiful forests and high slopes, is known for its clarity. Every season offers stunning views, making it a year-round destination.
Olympic Legacy: Both the 1932 and 1980 Winter Olympics were held in the hamlet. Visitors can explore the Olympic Center and the Ski Jumping Complex, two Olympic locations.
Outdoor Recreation: An outdoor enthusiast's utopia, Lake Placid. In the vicinity, you may go hiking, kayaking, canoeing, skiing, and snowboarding, to name just a few things.
Vibrant Arts Scene: Lake Placid boasts a flourishing artistic scene despite its tiny size. All year long, you can take advantage of the local theatres, art galleries, and musical acts.
Charming Village: The hamlet itself is charming, with a charming downtown centre filled with stores, eateries, and historical structures. It's the ideal location for a calm stroll.
7. Hudson River Valley
The Hudson River Valley blends stunning natural scenery with a fascinating past. The area is well known for its wineries, quaint towns, and breathtaking Hudson River views. Visit historical sights like Kykuit, the Rockefeller Estate, or stroll through parks.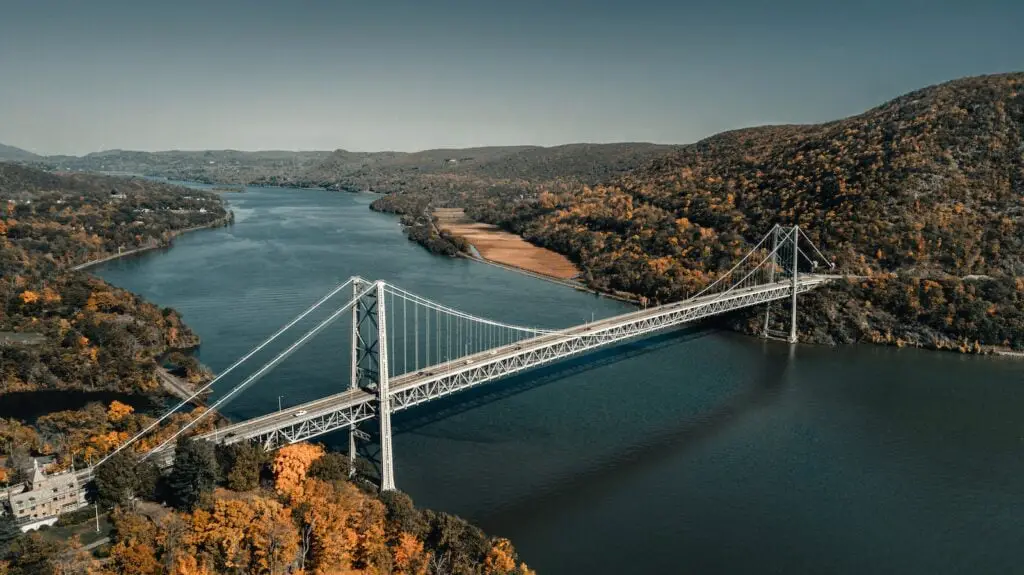 The Hudson River Valley, located in the eastern part of New York State is a Natural Wonders of New York because it is steeped in history, culture, and natural beauty. Here are five key points:
Scenic Landscapes: The Hudson River flows majestically through the valley's magnificent surroundings, passing by vineyards, quaint villages, and rolling hills.
Historical Significance: With locations like the West Point Military School and the famed Sleepy Hollow historical town, it played a significant part in early American history.
Artistic Inspiration: The Hudson River School of Art was born here, with its painters capturing the valley's stunning landscapes in their works.
Outdoor Activities: The many trails and rivers provide numerous possibilities for riding, kayaking, and hiking for outdoor enthusiasts.
Wine and Cuisine: The valley is a popular destination for foodies and oenophiles because of its wineries and farm-to-table restaurants.
8. Thousand Islands
A distinctive archipelago of more than 1,800 islands, the Thousand Islands region is situated where the St. Lawrence River and Lake Ontario converge. See this attractive region's lush landscapes, ancient castles, and abundance of wildlife by taking a boat cruise. The Thousand Islands are one of the famous Natural Wonders of New York.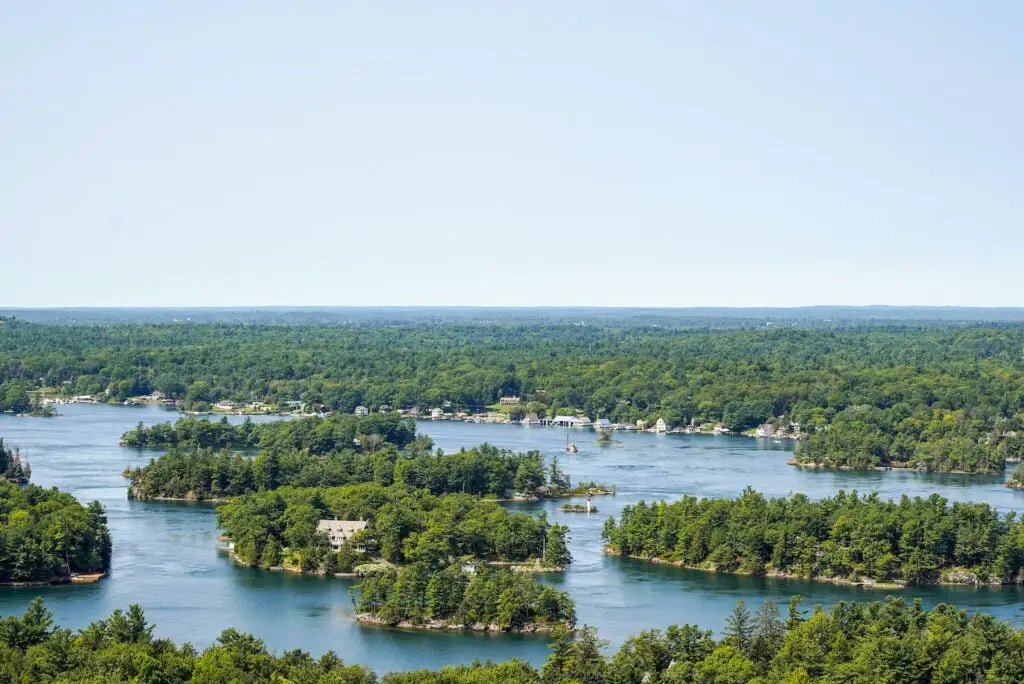 The Thousand Islands are a captivating archipelago in the St. Lawrence River, straddling the border between the United States and Canada. Here are five intriguing aspects:
Island Paradise: There are more than 1,800 islands in this area, each with a special charm. Some are privately owned, while others allow investigation by the public.
Boldt Castle: Boldt Castle is a large, historic mansion on Heart Island and a well-known attraction. It is a must-see location and a tribute to one man's devotion.
Boating Bliss: A boater's paradise, the islands provide endless possibilities for sailing, kayaking, and cruising amidst stunning scenery.
Fishing Haven: Bass, pike, and muskie are just a few of the species that fishermen target when fishing the St. Lawrence River, which is renowned for having excellent fishing.
International Flair: You may take boat tours to see how both nations view this breathtaking place, as the islands lie on the US-Canada border.
9. Finger Lakes
Long, narrow lakes that resemble the fingers on a hand can be found in the Finger Lakes region. Outside the wines and vineyards, there are beautiful state parks, waterfalls, and hiking and boating options. It is the ideal fusion of scenic beauty and culinary delights.
The Finger Lakes region in upstate New York is a captivating destination known for its unique geography, outdoor activities, and vineyards. Here are five key points:
Distinctive Lakes: The eleven long, slender lakes that resemble fingers gave rise to the region's name. These glacial-formed lakes are perfect for boating, swimming, and fishing.
Wine Country: The wineries in the Finger Lakes are well known for their outstanding Riesling wines. Many vineyards provide tours and samplings of their wines to visitors.
Scenic Beauty: The region is ideal for hiking, birdwatching, and wildlife photography since it has beautiful vistas, undulating hills, and waterfalls.
Cultural Richness: The Finger Lakes region is known for its vibrant festivals celebrating art, music, and regional culture, in addition to its museums and historic buildings.
Outdoor Adventure: In addition to water sports, the area also provides opportunities for biking, skiing, and snowshoeing.
10. Allegany State Park
The western New York location of Allegany State Park is a refuge for outdoor enthusiasts. It provides a tranquil getaway into nature with its extensive hiking and biking paths, gorgeous lakes, and lush forests. In the park's Dark Sky region, don't forget to observe the stars.
Here are five key points about this stunning park:
Vast Wilderness: The largest state park in New York, Allegany State Park, covers over 65,000 acres. There are many different ecosystems in this vast wilderness.
Quaint Campsites: The park provides a range of camping alternatives, from conventional tent sites to cabins, enabling guests to fully appreciate the beauty of nature.
Endless Trails: There are numerous miles of hiking, biking, and horseback riding routes throughout the park, including the North Country National Scenic Trail.
Water Recreation: Red House Lake and Quaker Lake, two picturesque lakes in Allegany State Park, offer opportunities for swimming, fishing, canoeing, and kayaking.
Year-Round Activities: The park is open all year. It becomes a snowy wonderland in the winter, ideal for cross-country skiing, snowshoeing, and ice fishing.
We also discussed the top 10 Best Places to Visit in the United States in another article.
Conclusion
From the above discussion, we found that New York is a state rich in natural wonders that are just waiting to be discovered in front of us beyond its skyscrapers and bustling streets. From the magnificent Niagara Falls to the peace of Lake Placid, these top 10 natural wonders of New York provide a variety of experiences for nature lovers. So pack your bags and explore Natural Wonders of New York.
See a whole different side of New York by exploring these Natural Wonders of New York; you'll be mesmerised by its beauty and tranquilly.